---
Archive
2006

01

02

03

04

06

07

08

09

10

11

12
---
Making Plans
Friday, August 27, 2004 02:55 AM
I have neglected this blog recently because, well, I had real things to do. I've been working a little too much (in the sense that a Hurricane is "a little too much wind"), so certain things, like having a life, had to take a back seat. This isn't likely to change in the next month or so, but will get better later.
I left my last salaried job a couple of years ago, when I could no longer stand the frequent travel. I took some time off, then started looking for a new job. After a few months, when I couldn't find anything I really liked, I decided to go independent as a consultant. I've also started Shorter Path, a small software shop selling utilities and component libraries. It took some time (and a lot of hard work), but I finally have enough customers to make the transition worthwhile. In fact, I have more than enough customers. In recent months, I have been turning down requests. There's job satisfaction for you.
Anyway, I've decided to take as many projects as I could until September 10th, then go back to a normal workload starting September 21st. What happens between the 10th and 21st, you ask? Well, even if you don't care, I'll tell you.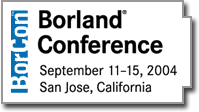 On September 10th, I'm going to BorCon. It's been a while since my last BorCon, and I'm really looking forward to it. If you are a developer using Borland tools, you should be there. Even if you don't, it might be a good idea to go to the conference anyway and see the great things Borland has in store for you. The next version of Delphi, for example. Or ALM - even if you don't know what that is you still need it. Oh, and I hear Brad Abrams is going to be there.
After BorCon, I'll be at the annual TeamB conference. Every year, Borland recklessly invites TeamB to come over and tell them what we really think. After several days of meetings, we all celebrate surviving the frank exchange of views by going to a picnic. If you're still in the neighborhood, you should join us (see the link for details).